2016 Educational Conference Travel Grant Recipients
The American College of Apothecaries (ACA), International Academy of Compounding Pharmacists (IACP) and American College of Veterinary Pharmacists (ACVP) Foundations provided pharmacy students a travel grant to attend the 2016 ACA/IACP/ACVP Educational Conference, February 24-27, 2016, in Coronado, California.
In addition to attending educational sessions on topics related to independent pharmacy, pharmaceutical compounding, pharmacy law, and veterinary pharmacy, travel grant winners had the opportunity to attend an association board meeting and network with working professionals from across the country.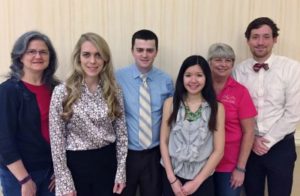 Pictured left to right: Lisa Ashworth, IACP Foundation President; Tracy Acosta, University of Texas; Steven Rush, St. John Fisher College, Wegmans School of Pharmacy; Christina Ly, Philadelphia College of Pharmacy/University of the Sciences; Dana Easton, ACA Foundation; and Adam Ehalt, University of Georgia.