ACA 75th Anniversary Print – Order Yours Today!
ACA commissioned artist Larry Wamble to design a 75th Anniversary Commemorative Print. ACA débuted the signed and numbered print (only 50 are numbered) to participants at the 2015 ACA President's Reception & Banquet, February 27, 2015 at the Educational Conference in Ft. Lauderdale, Florida. The print is now available for sale. This handsome memento of a milestone event in the history of the College would be the perfect addition to your collection of pharmacy memorabilia.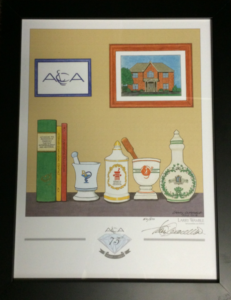 Deadlines for the scholarships are December 15 and June 15.
If you have any questions about the scholarships, please contact ACAFoundation@acainfo.org.
2017 Educational Conference Travel Grant
The American College of Apothecaries (ACA), International Academy of Compounding Pharmacists (IACP) and American College of Veterinary Pharmacists (ACVP) Foundations are offering up to four (4) pharmacy students a travel grant up to $2,500 each to attend the joint 2017 Educational Conference, February 21-25, 2017, in San Diego, CA. All student pharmacists are encouraged to compete.