John S. Oftebro Named 2016 ACA Foundation Lifetime Achievement Award Recipient
CORONADO, CA, February 26, 2016:  The American College of Apothecaries Research and Education Foundation presented the 2016 ACA Research & Education Foundation Lifetime Achievement Award to John S. Oftebro of Seattle, Washington at the College's 2016 Annual Educational Conference.  The presentation was made during the Presidents' Banquet Friday evening at the Loews Coronado Bay Resort.  The award is presented to a member of the College who is dedicated to the advancement of the profession of pharmacy as seen through commitment and support of the ACA Research and Education Foundation.
Over his career, John Oftebro has been a leader and innovator in pharmacy practice.  After acquiring Kelley-Ross Pharmacy in 1973, John pioneered a number of pharmacy services in the fields of compounding, long-term-care and hospice.  His vision for pharmacy resulted in the adoption of cutting edge technology and automation in the community setting, including one of the first pharmacy robots in Washington State. As a result of his vision, Kelley-Ross has expanded to include six locations throughout Seattle.
In addition to his business acumen, John's passion for teaching and natural mentorship talents have benefitted countless students and practitioners. Since 1972, he has served as an Affiliate Faculty Preceptor to over 100 pharmacy students from the University of Washington and his alma mater, Washington State University.
John entered pharmacy politics early, forming a local pharmacy association in Seattle in 1965. He is also a member of the Washington State Pharmacy Association, and served as its president in 1978. He has been the present of the Washington State Pharmacy Foundation for the past 23 years. As a member of ACA since 1985, John served as President in 2003 and is currently the President of the ACA Foundation.
John's contributions to the profession of pharmacy have been recognized in the past by state and national organizations. The Washington State Pharmacy Association honored him in 2014 with the Distinguished Leadership Service Award, in 2002 with the Bowl of Hygeia and in 1999 with the Don B. Katterman Award. Washington State University has awarded him both the WSU College of Pharmacy Outstanding Alumni Award and the WSU Award for Volunteer Service.  In 2011-12 John received the J. Leon Lascoff Award, the highest award presented by the American College of Apothecaries in recognition of his outstanding contributions to professional pharmacy.
Although retired from practice in 2008, John continues to be an active member of the pharmacy profession at the local, state and national level.  His ongoing passion for the profession makes him a wonderful ambassador and influential leader.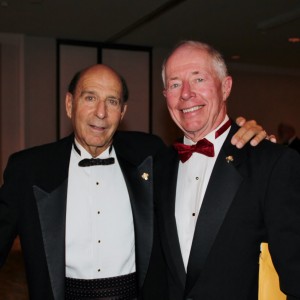 Howard L. Stark (left) & John S. Oftebro (right), the 2015 and 2016 Recipients of the ACA Foundation Lifetime Achievement Award.