Buford Abeldt Honored with 2019 ACA Foundation Lifetime Achievement Award
ST. PETE BEACH, FL; FEBRUARY 8, 2019: The American College of Apothecaries Research & Education Foundation presented the 2018 Lifetime Achievement Award to Buford Abeldt, RPh, FACA, FACVP of Lufkin, Texas. The presentation was made during the President's Banquet on February 9 at the at the ACA |ACVP Annual Conference and Expo at the Don CeSar Hotel in St. Pete Beach, Florida.
Buford Abeldt earned his bachelor's degree in pharmacy from Southwestern State College, now Southwestern Oklahoma State University in Weatherford, Oklahoma. Over his career, he has worked as an independent community pharmacist and pharmacy owner, as well as in a hospital, clinic, and in the U.S. Navy. In the past, Abeldt has served as President of the ACA and as an ACA Regional Director for several years. He currently serves on the Board of Directors for ACA's Research & Education Foundation and for the Texas State Board of Pharmacy.
Since 1979, when he opened Abeldt's West Loop Pharmacy in Lufkin, Texas with a single pharmacist—namely himself—and one clerk, Abeldt's Pharmacies have fulfilled the health care needs of many generations of families and developed relationships throughout community.
Over the years, Abeldt has exemplified entrepreneurism in independent pharmacy with the purchase and consolidation of a second pharmacy and then a third pharmacy, and an expansion into medical supplies. Abeldt's Pharmacy was awarded the 2006 Small Business Award from the Angelina County Chamber of Commerce and "Best Pharmacist" by the Lufkin Daily News for 2006-2015.
The American College of Apothecaries Research and Education Foundation was honored to recognize Buford Abeldt's 40 years of dedication to independent pharmacy and to his community. Buford and his wife Melissa have been supporters of the ACA Foundation for many years.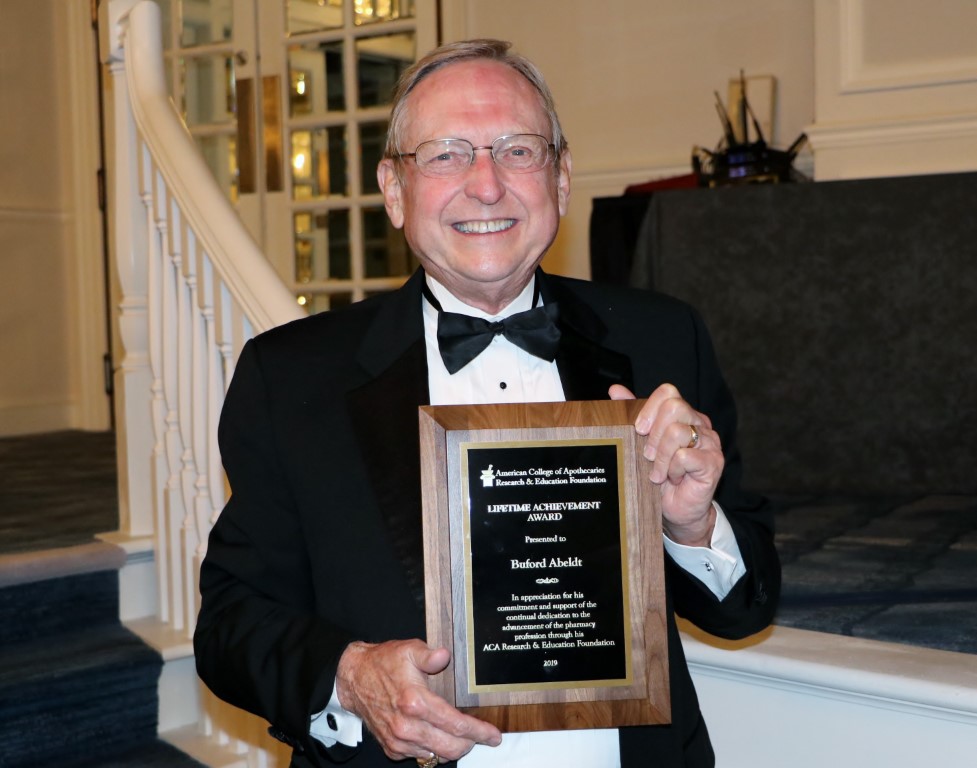 Buford Abeldt, 2019 Recipient of the ACA Foundation Lifetime Achievement Award.