Paul Lofholm Honored with ACA Foundation Lifetime Achievement Award
PONTE VEDRA, FL, March 2, 2018: The American College of Apothecaries Research and Education Foundation presented the 2017 ACA Research & Education Foundation Lifetime Achievement Award to Paul W. Lofholm of San Francisco, California at the College's 2018 Annual Educational Conference.  The presentation was made during the Presidents' Banquet Friday evening at the Loews Coronado Bay Resort.  The award is presented to a member of the College who is dedicated to the advancement of the profession of pharmacy as seen through commitment and support of the ACA Research and Education Foundation.
The Foundation was honored to present the 2017 REF Lifetime Achievement Award to Paul Lofholm—an individual who truly embodies the College's ideals of advancing the entrepreneurial spirit of member pharmacists through education, innovation, mentoring, fellowship and training.
Over his career, Paul has worked as an independent community pharmacist and pharmacy owner, clinical professor of pharmacy, nursing home consultant and author. In the past, he has served as President of the ACA, Vice President for Clinical Affairs, and as an ACA Regional Director for several years. Paul currently serves on the ACA's Research & Education Foundation Board of Directors and as an on-site instructor for ACA.
Paul ongoing passion for the profession makes him a wonderful ambassador and influential leader, which can be seen in his own extended family. With 19 pharmacists in his extended family, including two of daughters and a son-in-law, Paul and Becky (also a pharmacist) have certainly done their part to ensure the future of pharmacy!
Paul is a past winner of the Rosica and Lascoff Awards from the ACA, the Pharmacist of the Year from the California Pharmacists Association, and the Distinguished Alumnus of the Year from the University of California, San Francisco, School of Pharmacy.
Paul's contributions to pharmacy have also been recognized by the American Pharmacists Association, which in 2011 awarded him its highest honor, the Remington Honor Medal, for distinguished service on behalf of American pharmacy.
Paul and Becky have been supporters of ACA and contributors to the ACA Research and Education Foundation for many years.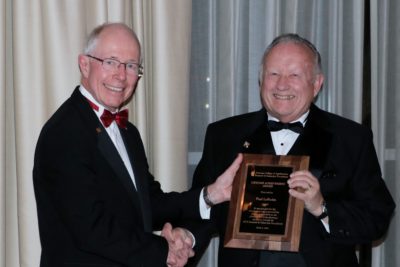 John S. Oftebro (left) and Paul Lofholm, the 2015 and 2017 Recipients of the ACA Foundation Lifetime Achievement Award.