Two outstanding pharmacy students, Katherine Raines, a 3rd year student at the University of Mississippi School of Pharmacy and Hayley Terlizzi, a 3rd year student at Northeast Ohio Medical University each received a Pharmacist Mutual | ACA Foundation Community Pharmacy Travel Grant to attend the recent ACA | ACVP Annual Conference and Expo in St. Pete Beach, Florida, February 6-9, 2019. This award is presented to students with a demonstrated interest in independent pharmacy, who show leadership qualities, extra-curricular activities, and a high level of academic success.
In addition to attending educational sessions on topics related to independent pharmacy, pharmaceutical compounding, pharmacy law, and veterinary pharmacy, travel grant winners had the opportunity to attend association board meetings at the conference and network with working professionals from across the country.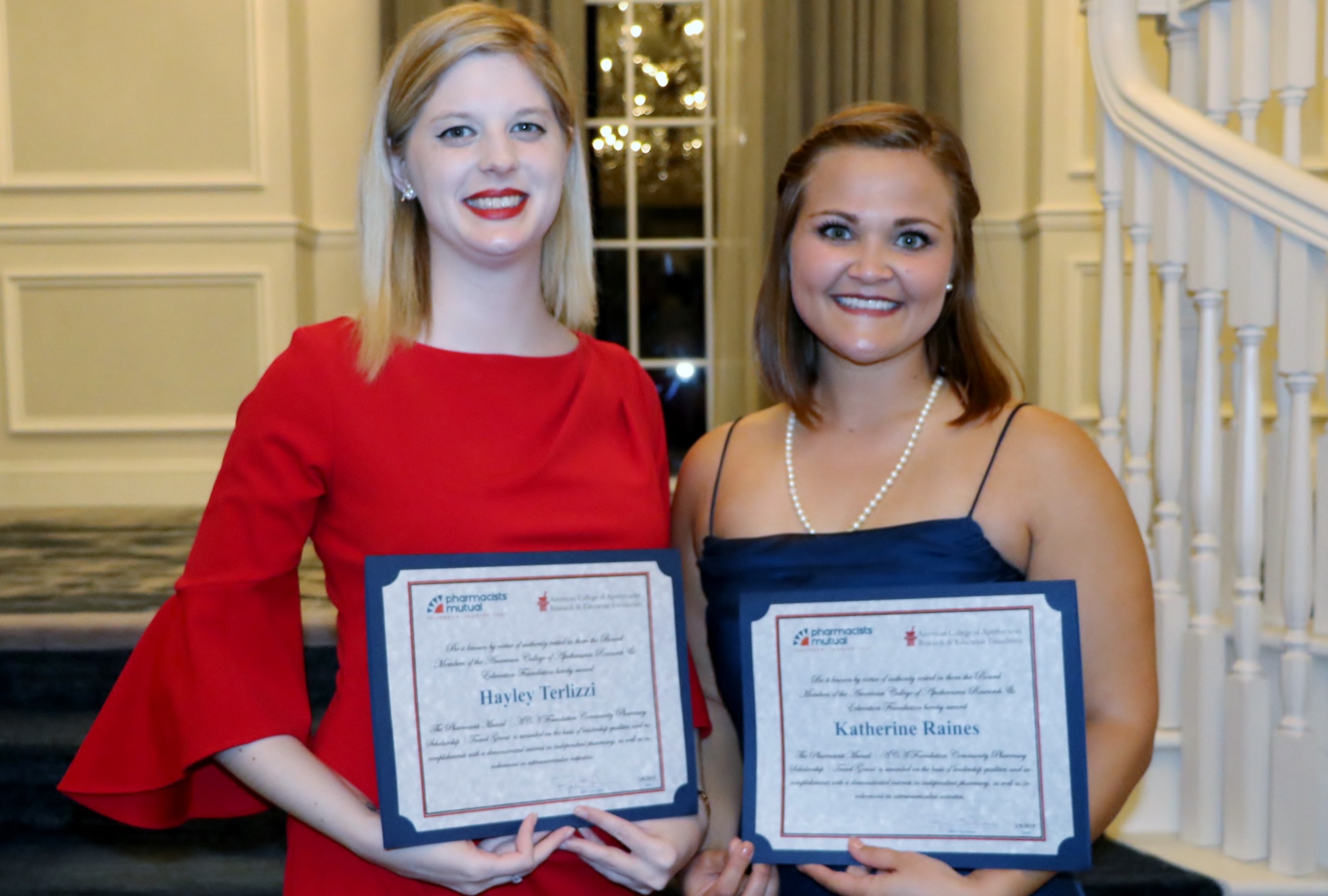 Hayley Terlizzi and Katherine Raines
Katherine is a student member of the American College of Veterinary Pharmacists (ACVP). Her professional goals include obtaining a residency position at the top clinical veterinary pharmacy programs which will then lead into becoming a veterinary pharmacist.
Katherine has been the Secretary of her school's ACVP Chapter for the past two years and was named "Member of the Year" last year.  She has published three articles for ACVP in the clinical and therapeutic areas of swim bladder, feline retrovirus, and Galliprant. She is also an active member of the Society of Veterinary Hospital Pharmacists and NCPA. Katherine additionally gained compounding experience in an independent pharmacy in her home state of Mississippi.
ACVP Fellow Erin Holmes, an Associate Professor of Pharmacy Administration at Ole Miss, had this to say about Katherine: "I cannot imagine a more deserving student than Katherine. Katherine has played a pivotal leadership role in our ACVP chapter and her constant enthusiasm has made our chapter incredibly successful. I have come to appreciate Katherine's work ethic, enthusiasm, service to others, and her passion for veterinary pharmacy and compounding."
Hayley is a student member of the American College of Veterinary Pharmacist and she hopes to complete a residency in veterinary pharmacy with the goal of establishing a niche pharmacy practice once she graduates.
While at Northeast Ohio, Hayley was involved in creating a student chapter of the American College of Veterinary Pharmacists (ACVP) and served as its President. She has been recognized for her academic achievement with a Pharmacy Merit Scholarship
Daniel Krinsky, a Professor in the Department of Pharmacy Practice at Northeast Ohio, had this to say about Hayley: "I've not known many students with the level of energy, enthusiasm and interest that Hayley demonstrates as it relates to co-curricular activities and being involved outside the classroom. She is very interested in 'giving back' and serving others, so I anticipate her attendance at this conference would be paid back many times through her sharing of information with other students and faculty here at NEOMED. I look forward to hearing and reading about Hayley's accomplishments during her career, as she has many qualities that will lead to significant successes."
Congratulations to Katherine and Hayley on their accomplishments; we are proud to recognize them  with the Pharmacist Mutual | ACA Foundation Community Pharmacy Scholarship | Travel Grant.